I am WAY too lazy to go into the gory details about my fun encounters with each chica so I will scan the highlights.
(Also, I don't take photos of the girls anymore so I will try to attach some newsletter photos where applicable.)
***Best Veteran
:
Yakaira
(or "Yahaira" as she is listed in the Book)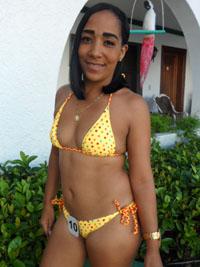 If you've been to BB at anytime over the last few years, except for when she had her baby, you have probably seen and especially heard Yakaira.
She has put on a few pounds and has elected to do that silly ass eyebrow Magic Marker thing the chicas like but she is still all about saleswomanship and customer service.
She is the opposite of shy and has no problems approaching any man within 20 feet of her. Soon after saying "hi" to me and telling me that she remembered me from years ago (the memories on these chicas are amazing) she had my hand in hers as she guided it under her dress to pet her cat. She wasn't wearing underwear and we were at the bar.
I talked to a couple of new guys who were suspicious of her thinking that she must be a desperate, poor performer to sell herself so hard. Hell no...not Yakaira. Like Tom Brady she is up there in years but is performing at perhaps her highest level right now.
Like many of the other Dominicanas I've encountered, her BBBJ skills are the oral sex equivalent of Rolls-Royce quality. She gets wetter than a Seattle sidewalk in December and she ain't done until YOU are done.
If you haven't spent time with her yet...spend time with Yakaira whenever you can!