After Blackbeards, I spent a few days in Sosua.
I stayed at the Sosua Inn Hotel which is basically Bailey's Restaurant with a hotel attached. It is a new hotel (2016) and still partly under construction. There is no reception but the restaurant serves as a sort of "Front Desk".
The property is managed by Kevin and you contact him via WhatsApp and pay your deposit via PayPal. A bit unusual but it worked out. Kevin looks like a teenager but he is all business and a good guy. I think he is Austrian or German? Don't know but what is important is that the room I stayed in (102) was a REALLY, REALLY nice room.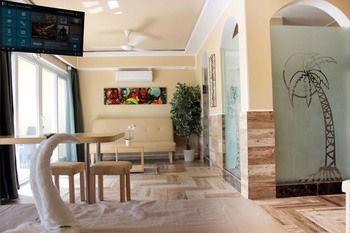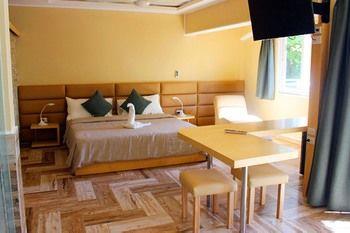 Coming from Blackbeards quality accomodations and staying in a huge room with a big bathroom, modern rain shower with hot water, accented lights, a bar area, a leather couch, a balcony and a separate walk-in closet/ dress area for only about $25 more per night was awesome! This hotel has me forgetting any other hotel in Sosua for my future stays as long as it remains as good as it was during my recent trip.
I know a lot of people talk about Pica Flor.
I didn't go to Pica Flor because I just couldn't get my head around paying more than double the price for the same old Sosua Strange.
Rumba is now a restaurant that is closed and under construction but it seems almost finished. The place that was D'Latins is an empty space that is also under construction but nowhere near completion.
The last time I was in Sosua it was the space that is now Bourbon Street which was the abandoned space while Rumbas was the Place to Be.
Bourbon Street is a large restaurant/ bar area and serves as the go to place to people watch as the army of putas begins to form when the sun is setting.
Speaking of putas...I saw at least as many chicas out and about at night on the usual block of Pedro Clisante as I have seen in the past so if there is a crackdown on The Trade I didn't see it.
I DID see many instances of Haitian girls running as the CESTUR patrolled up and down the street. It looked more like a game and I didn't see any instances of violence or girls being physically intimidated.
If you like situations where you are far outnumbered by chicas then I guess late April is a good time to go to Sosua because for every guy I saw hanging around I must have seen 6 chicas. The ratio was almost silly. If you have any sort of Spanish and aren't aiming for the 9 and 10 level supermodels (of which there aren't many anyway) then I can't imagine you'd have problems negotiating down to 1,500 pesos for two hours or 2,500 pesos for a few hours more.
I spent most of my time with an imported sure thing Chica (retired Claritza from Blackbeards) because to me a known good thing is more important than the brand new chica who I have no idea will or won't be a positive experience.
Having said that I did take back a chica from Santo Domingo who gave me several clues that she was not going to be a problem:
1. She wasn't pushy
2. She seemed pretty well educated by Dominican Working Girl standards
3. When I offered her food she said no and only wanted one beer
4. She was affectionate in the bar (Bar Central) but she wasn't doing the constant ball grabbing that they do to get you worked up so you'll take her back to the room quickly
5. She seemed pretty serious about her Catholicism. Yeah, that could be a ruse a chica may use to get your guard down but I felt she was genuine (she was it turns out)
6. None of her questions revolved around my money or how "rich" I am. She didn't even ask me where I was staying. This is a big thing for me that I learned in the Philippines. The more the girl is thinking "money" the less she is thinking "customer service" at least that is my experience.
One thing I don't like about Sosua is that the scammer/ bad performer ratio isn't good but being patient and really looking for clues about a chica helps out a WHOLE lot!
Again, I don't have pictures, but I'd say that the main difference between the chicas from 2014 and now are that there are a LOT more Haitian chicas (Sosua Nights or City Lights or whatever the place is called seems to be their main hub now) and the Kim Kardashianization of Sosua has started.
I saw SOOO many Big 'Ol Bootys...far more than a few years ago. There is even a chica at Blackbeards now with an obvious fake ass. I am an ass man but it was a little out of hand even for me.
The after hours spot is the Casino at Playa Chiquita. A 5 minute moto ride there is worth it if you are a late night type. The dance club portion reminds me a LOT of D'Latins but isn't quite as big but a LOT of chicas are there and available.